Thank you for joining the 2nd Air Sensors International Conference as a Poster Presenter. Poster Presentations are a great way to share key information in a digestible format. Using graphs, graphics and data, you can share a your work's progress and outcomes. Attendees can take their time in reviewing your poster information and forming follow up questions.  Poster Presenters can then answer these follow up questions through personal interactions during the Welcome Reception and Poster Review. 
Thursday morning we will be hosting virtual activities for poster presenters to connect through. Please stay tuned for details on that at the beginning of April.
Poster Presenter Tasks
ASAP: Please let Sandra Hall know if there are any updates to your presentation title, description or authors.
ASAP: Book your accommodations & travel: You can view our partner hotels and group rates on our website here.
March 18: Please check that you are registered for the conference by reviewing this list of registrants (updated weekly). You can register online now. Or volunteer at the conference for a discount on registration. All virtual and in-person poster and oral presenters must register.
March 31st: Sign & return the consent to record form below
April 1st: (Virtual Presenters Only) Confirm your virtual presentation participation
April 18-22: Virtual platform training for presenters
May 3: Poster display and recordings should be on the virtual platform for attendees to review. 
---
Conference Documents
| Document | Description |
| --- | --- |
| Consent to Record | All presentations will be given live and recorded for attendees in different time zones. As presentations are recorded, they will be simultaneously live-streamed to our virtual platform, WHOVA. All speakers and session chairs must sign and return this document to Sandra Hall, sehall@ucdavis.edu, by March 1st. |
| Whova Platform for Attendees | Guide to how to make the most of the Whova virtual platform. Includes a brief 6-minute video! |
| Whova Platform for Presenters | Guide to how to make the most of the Whova virtual platform as a speaker. Includes a brief 7-minute video! |
| Whova Platform for Poster Display | Guide to how to make the most of the Whova virtual platform as a poster presenter in the "Artifact Center" aka Poster Center. Includes a brief 5-minute video! |
---
In-Person Poster Display Specifications
Poster Displays will be on large poster boards in the exhibit hall. They will be left up for the full duration of the conference. They can be hung up Tuesday evening from 3PM-6PM or Wednesday morning from 7AM-8AM. They can be removed Friday 11AM-3PM. If posters are hanging after 3PM Friday, they will be removed by staff and recycled (please do not make staff do this). 
Must be no larger than 4ft x 4ft.
You can find the poster you are presenting on our website.  Additional details on placement location and timing to come.
Should include your contact information.
Should include your poster number in the top RIGHT corner (Official Poster Numbers to come).
Printing your poster in Pasadena?
If you are planning on printing your poster in Pasadena to avoid traveling with it, here are two local FedEx print shops within walking distance of the venue.
FedEx Office Print & Ship Center - 855 E Colorado Blvd, Pasadena, California,

91101

FedEx Office Ship Center - 135 N Los Robles Ave, Pasadena, California, 91101
---
Lighting Talks
A few Poster Presentations will be selected for 1-minute 1-slide Oral Presentations in the Lighting Talk on Wednesday afternoon. Those who have been selected for a lightning talk have been notified by email and are listed on the Poster Abstract Page here. We suggest your 1-minute talk be a brief hook with a invitation to view results at your poster display. The slides will be an automatic timer, so you are not permitted to exceed 1 minute.
Rapid Fire Presentations will be Wednesday afternoon before the welcome reception
Must be 1-slide only
Must include Name, Organization and Official Poster Number
For in-person attendees only

The slide should be landscape 16:9 ratio with no animations
Submit your PPT Slide to this Box Folder by May 3rd.
---
Virtual Platform
Poster Presenters will be able to interact on the virtual app with attendees in many ways as described below. All Poster Presenters should have received an email from Whova inviting them to the platform. The email would come from event-noreply@whova.io, so please check your spam if you have not yet received it. The platform will allow poster presenters to upload documents to their poster information to the Poster Center (aka Artifact center). Please review this training to learn about the virtual platform and how to use it to your advantage.
Join a virtual training on Whova!
We recommend attending one of the upcoming trainings on the virtual platform that will be used during the conference. You can learn how to navigate the platform for various activities and available to answer general logistical questions. We highly recommend you attend a training session below if you are a virtual presenter and encourage all in-person presenters to attend one as well. To join a training, visit the virtual platform Whova (https://whova.com/portal/webapp/asic_202112/)  and choose a Rehearsal Session to join.
Monday, April 18 – 4pm PT

Monday April 18 - 8pm PT

Tuesday, April 19 – 12pm PT

Thursday, April 21 – 7am PT

Thursday, April 21 – 9am PT
Whova Platform Rehearsal Session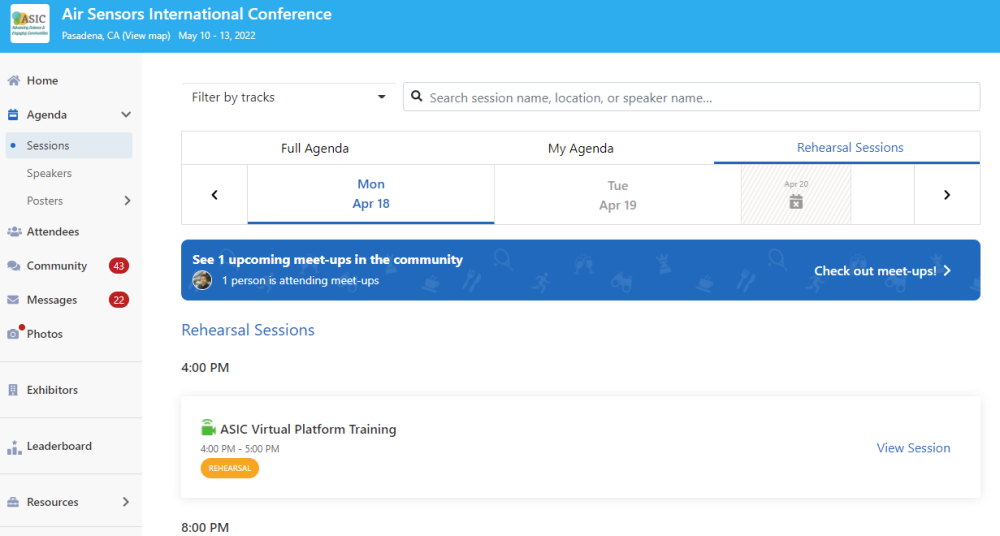 ---
Virtual Poster Introduction
(For both in-person and virtual presenters)
You may link a 2-minute lightning talk of your poster on WHOVA. This can be done through YouTube, Vimeo or other video-hosting services. Learn more about how to do this through the Whova Artifact Training.  This 2-Minute Madness video will be an opportunity for you to give a 2 minute overview of your poster information to all our attendees. 
Your video can include PowerPoints, videography of yourself or your work, images of yourself or your work and any audio. 
Your video should include your name, organization, poster title and Official Poster Number (We suggest having this as an overlay that stays at the bottom of the video for the full duration)
---
Virtual Poster Discussion
Thursday, May 12, 8:00 a.m. PT - 9:30 a.m. PT
(For both in-person and virtual presenters)
Both in-person and virtual poster presenters will have the opportunity to talk with ASIC participants about their project on the morning of Thursday, May 12th, through the virtual platform Whova. Thursday morning from 8:00 a.m. PT to 9:30 a.m. PT we are asking in-person and virtual poster presenters to be available on their computer in the Whova app to participate in the Virtual Poster Discussion through small group video conversations with other attendees. During this time, there will only be one live session that will occur in-person at the conference center instead of four to reduce conflicting activities. We expect many attendees to participate in this Virtual Poster Discussion. In-person poster presenters and attendees are welcome to participate in this Virtual Poster Discussion from their home, hotel or the conference center.
We will be breaking the 95 poster presentations in the Virtual Poster Discussion up into Group A, B, and C. Each group will be available for questions for 30 minutes to present directly through the web version of Whova. During your timeslot, attendees will join your Whova room to ask questions for a few minutes and then move to the next room. When your group is not actively presenting, we encourage you to visit the other poster presentations to ask questions of those presenters. The group your poster presentation is part of, was emailed to the address we have on file. Please contact Sandra Hall if you did not receive it.
Group A will present from 8:00 – 8:30 a.m. PT

Group B will present from 8:30 – 9:00 a.m. PT

Group C will present from 9:00 – 9:30 a.m. PT
Please let me know if you are unavailable during your group's time. After the 1 hour 30-minute Virtual Poster Discussion has completed, there will be small group roundtable discussions on Whova related to each conference session that you and other attendees may join.
Here are the instructions on how to get started for the live-stream of your virtual poster discussion:
On the desktop, click the link

 to access your Poster Presentation in the live session sent by Whova. (Whova sent an invitation to the platform from event-noreply@whova.io)

Join 15 min prior to the Poster Presentation session start time to get yourself prepared.

The audience is muted by default. You can unmute them if they raise their hand.

You can have up to 7 other co-presenters. (They will be able to stream their audio and video and will also be able to unmute/mute the audience)
We recommend that you check out this tutorial to learn more details. 
---
COVID-19 Safety Information
We realize there are some concerns around attending the conference in-person in May due to COVID-19. As an event hosted through UC Davis, we will be following all UC Davis guidelines for hosting in-person events to keep you, as our attendees, our staff, and our communities safe.
Please review these COVID-19 Health & Safety Guidelines for ASIC in Pasadena, California.
We will continue to update attendees with changes to protocols based on the CDC and UC Davis guidelines. We strongly feel that these precautions will help us host ASIC safely for all attendees.
---
Questions?
Contact your session chairs or Conference Manager, Sandra Hall, at sehall@ucdavis.edu.