*Note: This webinar is developed and paid for by Clarity Movement Co as part of a sponsorship series. The ASIC program and the UC Davis Air Quality Research Center have not checked the content for accuracy.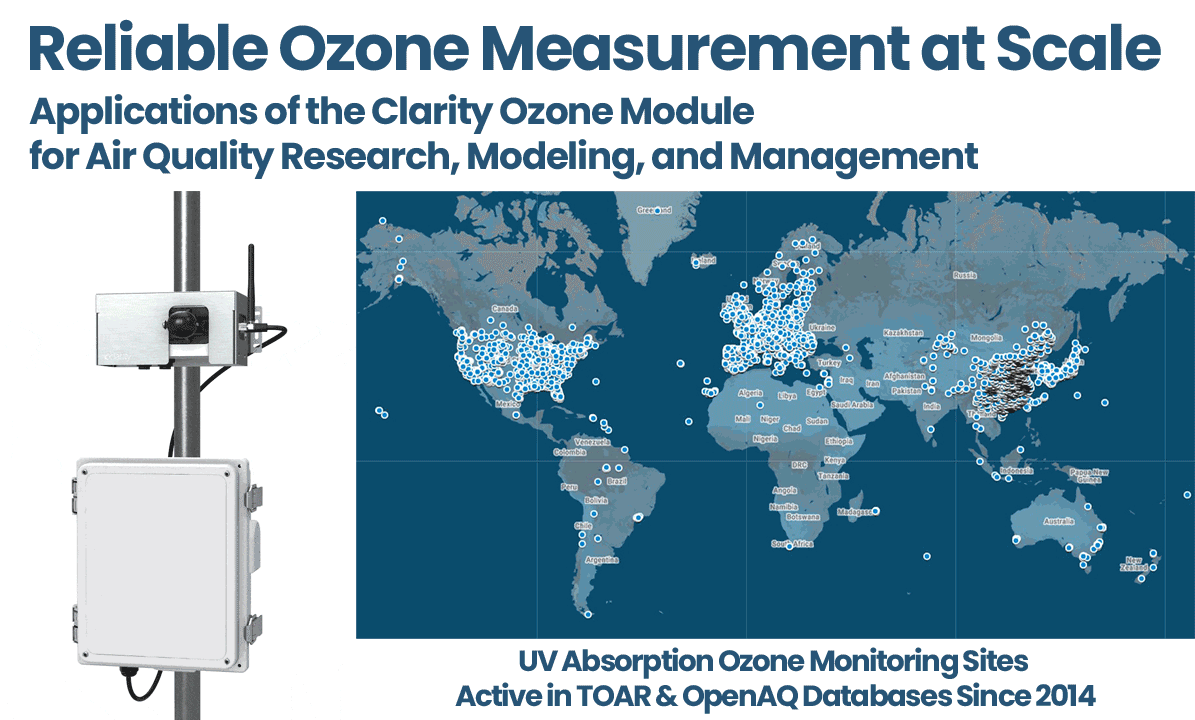 Significant gaps exist in ozone monitoring infrastructure worldwide, which limits our ability to understand ozone pollution trends, exposures, and health impacts. Fortunately, reference-grade ozone monitors have become more affordable and portable in recent years, opening up a wide range of potential applications for ozone instrumentation. In this webinar, we will explore some of the applications of the FEM-capable Clarity Ozone Module — provided in partnership with 2B Technologies — for air quality research, modeling, and management.
Air quality researcher Owen Cooper (University of Colorado Boulder) — who leads the International Global Atmospheric Chemistry (IGAC) Tropospheric Ozone Assessment Report — will share how deploying additional ground-level ozone monitoring stations will improve our capacity to effectively assess surface ozone trends and quantify global human exposure to this harmful pollutant. Air quality management expert Gordon Pierce (CDPHE) will share how additional ozone monitoring locations would help to better characterize where high ozone levels are occurring and to provide for better forecasting and public information. He will highlight areas of particular interest such as unmonitored communities, the mountain foothills in Colorado's North Front Range, and other areas where ozone has not previously been measured.
Clarity Movement
Clarity Movement Co. is an environmental technology startup transforming the way governments, campuses, businesses, and communities understand and respond to air pollution. Clarity provides the most complete, scalable air monitoring solution, with unmatched hardware, software, and expert services. Used in more than 60 countries around the world, Clarity solutions empower customers with continuous monitoring for accurate data in a fully supported, worry-free environment. For more information, visit: www.clarity.io
Contact Clarity Movement
2B Technologies
For over 20 years 2B Technologies has been dedicated to the development and commercialization of new, miniaturized analytical instruments for atmospheric and environmental measurements.  Starting with its founding instrument, the Model 202 ozone monitor, 2B Tech has designed products that make air monitoring more accessible to non-regulatory entities.  In 2009 2B Tech began involving students and the public in air monitoring through education and outreach programs, including the Global Ozone Project, GO3Treks, and AQTreks. These projects have allowed 2B Tech to dive deep into the intersection of regulatory and community-based monitoring, guiding the creation of our newest products geared toward public air monitoring. For more information, visit: www.twobtech.com
Webinar Panelists:

Owen Cooper
Senior Research Scientist, Regional Chemical Modeling, NOAA Chemical Sciences Laboratory
Owen Cooper is a Senior Research Scientist in the Cooperative Institute for Research in Environmental Sciences (CIRES) at the University of Colorado.  He works closely with government scientists in the Chemical Sciences Division of the NOAA Earth System Research Laboratory in Boulder, Colorado. Currently, his primary role is the coordination of the International Global Atmospheric Chemistry (IGAC) Tropospheric Ozone Assessment Report. Further information on his work can be found here: https://csl.noaa.gov/staff/owen.r.cooper/
---

Gordon Pierce
Technical Services Program Manager, Air Pollution Control Division, Colorado Department of Public Health and Environment
Gordon Pierce has worked for the Colorado Department of Public Health and Environment, Air Pollution Control Division, since 1987 and currently supervises the Technical Services Program, which covers ambient air monitoring, quality assurance, modeling, prescribed fire and forecasting. During this time, at CDPHE, he has worked on a variety of air monitoring projects and is involved with a number of different groups including the Western Regional Air Partnership, the NACAA National Air Monitoring Steering Committee and the IMPROVE Steering Committee.
---

Jessa Ellenburg
Director of Educational Outreach, 2B Technologies
Jessa Ellenburg earned a degree in Civil Engineering at the University of Colorado and spent six years in bridge design. Thereafter she joined 2B Technologies in 2009 to follow her passion for educating youth about air pollution and climate change.  She has assisted in the creation of a number of educational projects using air pollution monitors in schools and communities, including the Global Ozone (GO3) Project and AQTreks. (jessae@twobtech.com)
---

Paolo Micalizzi
Chief Technology Officer and Co-Founder, Clarity Movement
Paolo Micalizzi is the Chief Technology Officer and Co-founder of Clarity Movement, an environmental tech startup focused on changing how we understand the environment by deploying dense networks for real-time air quality monitoring. Fueled by a passion for improving our environment, Paolo provides the vision for Clarity's product roadmap including the platform approach that allows Clarity to integrate Modules such as the Ozone Module. Prior to starting Clarity, Paolo was a Visiting Scholar at the Flexible Electronic Devices and Systems Laboratory at UC Berkeley studying self powered wireless sensor nodes.